Thursday, 24 January 2013 12:34 Thursday, 24 January 2013 12:34 Last Updated on Friday, 05 December 2014 13:37 Written by admin Hits: 38729
Kawasaki Authorized CBU and CKD Dealers
WELLY ADVANCE BIKERS SDN. BHD. is a company incorporated in Malaysia since 21 August 1997 and whose partners have been working in the motorcycle field for more than 23 years and it's also a first concept shop "GT World" showroom in Malaysia.

WELLY ADVANCE BIKERS SDN BHD (444247-D) selling all kind of new and used model of CBU & CKD model Kawasaki, Honda, Yamaha, Suzuki, Harley-Davidson, BMW, Ducati, Aprillia, Piaggio, Gilera, etc.

WELLY ADVANCE BIKERS SDN BHD showroom and service centre are located in one of the most prestigious and easily reachable area of Batu Caves, Selangor Darul Ehsan. Our showroom clean and comfort environment for our value customers. Service centre motorcycle are proper arrange and having a good and experience mechanics.
Our Milestone
2014 Official Opening Kawasaki KESC
2012 Official Opening Kawasaki GT-World Showroom
With a boast of more than 16 years of motorcycle parts work gives us the experience since 1997, to know what questions to ask to ensure you get the correct part the first time. The products are range from local, Japan, Europe vehicles and also supply of the US branded.
We have an established yard and buying network in Japan as well as few Europeans countries. This enables us to bring high quality motorcycles and parts to Malaysia including accessories and apparels. Welly Advance Bikers has been in operation for over five years. We have a direct connection with the motor sport industry and through this experience it has given us the ability to supply you with the best hands on advice. Our experience in this fields for many years certainly benefits you.
Discover a whole New Experience (2009)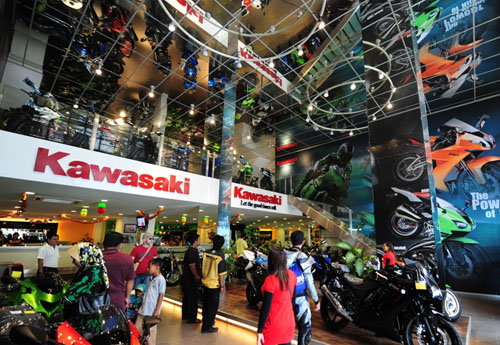 As we rev forward, we've enhanced our logo thus, creating a corporate branding image and we are continuously striving to provide our customer with better service and quality!
1st KAWASAKI GT World Showroom in Malaysia (2008)
WELLY ADVANCE BIKERS expand on November 2007 to 5 units of shop, Open the new and first Kawasaki GT World Showroom on January 2008 in Malaysia. Welly Advance Bikers @ Kawasaki GT World Showroom January 2008
Welly Advane Bikers Since August 1997
Showroom and service centre.Kawasaki Showroom and Service Centre at year 2001